Croatia continues to grow as a popular yacht charter destination and with more and more yachts flocking to the coastline every year. An excellent option for those looking to explore the many islands and deep historical roots of this part of the Adriatic Sea is via a sailing yacht charter in Croatia. Read on for more information on this sun-soaked region. 
What is a Sailing Yacht Charter?
A sailing yacht charter is when you book a trip onboard a private charter sailing yacht. In booking this yacht charter, you will have access to the entire sailing yacht for your guests and your guests only. You will also have the yacht's full-time crew on board to tend to your every need. This will include a captain for navigating the yacht and offering suggestions for destinations along the way; the private chef to prepare all meals and snacks, and a few other crew members to tend to the interior and exterior needs of each guest.
Sailing Yachts for Charter in Croatia
---
Croatia Sailing Yacht Charter FAQ
How much does it cost to charter a sailing yacht in Croatia for a week?
With sailing yacht charters in Croatia on the rise, you can usually find one in your preferred budget. Some things to bear in mind when it comes to the price booking a charter sailing yacht in Croatia:
Time of year – Peak season here is May – September with July and August remaining the most popular months.
Size of sailing yacht – Depending on the group size you'd like to book, or the size of the vessel, this can affect your total budget.
Base prices versus all inclusive – All luxury yacht charters, whether they are motor yachts or sailing yachts, will provide a "base rate" price. This is the price to book the yacht rental for the week, the yacht crew, and any tenders and toys onboard. On top of this, you'll want to budget roughly 50 – 55% for all of your extras. These include your Advanced Provisioning Allowance (APA) for food and drinks, local taxes, fuel, and optional crew tip. So, if your luxury sailing yacht charter in Croatia has a base rate of $100,000, you'll be looking at a total cost of around $155,000 for the week.
Most charter sailing yachts in Croatia will start with a base price of around $20,000 for the week, with prices rising to over $100,000 per week. While you may be able to find "bare boat charters" for much smaller budgets, these will not include yacht crew.
Is a yacht charter all inclusive?
As above, yacht charters won't technically quote you at an all-inclusive price, however, you will pay for all of the above prior to departure.
The charter yacht broker or yacht charter management company will draw up a contract that (usually) consists of two installments.
Fifty percent will be due at the time of signing and reserving your dates for the sailing yacht charter in Croatia,
with the remaining 50% due one month prior to departure.
These instalments will include all payments, so the only thing you will have to pay for while onboard is any on land excursions or specialists onboard (i.e. diving instructors, surf instructors, etc.).
If you are not comfortable carrying large sums of cash to pay the crew a well-earned tip at the end of your yacht charter, you can also ask the yacht management company to hold this money until your day of departure when they will release it to the appreciative crew members.
Who pays for the food on yacht charter?
You, as the yacht charterer, will pay for the food on your yacht charter. However, this will be part of your payments above so once you step onboard, you won't have to pay for any food or shopping done by the crew. However, if you opt to dine on land at local restaurants, this will be out of pocket.
What is not included in a yacht charter?
A luxury yacht charter will not include any shopping on land, or restaurants or excursions booked on land or at sea (off of your charter yacht). In addition, if you want a PADI dive instructor onboard for the duration of your yacht charter, or to have fitness experts come in, etc. this will have to be paid by you. In addition, flights and any hotel stays booked before or after your luxury sailing yacht charter in Croatia will not be included in your yacht charter payments.
Top 10 Sailing Charter Yachts in Croatia
#1 ALMYRA
ALMYRA II is a classic sailing yacht built by notable Italian sailing yacht shipyard, Perini Navi in 2000, with a recent refit in 2022. With a length of 163.5ft (49.8m), she has space for 12 guests in five staterooms and an attentive crew of eight.
#2 AQUIJO
Built by Dutch shipyard, Oceanco, AQUIJO spans over 282.2ft (86m) with space for 12 guests in seven luxurious cabins. Built in 2016, she comes equipped with a wide variety of tenders and toys and a total crew of 17 to tend to their yacht charter guests.
#3 SEA EAGLE
SEA EAGLE was recently built in 2020 by Royal Huisman with a refit last year. She can accommodate 12 guests in six staterooms and 14 crew members with a length of 265.9ft (81m) and includes plenty of diving equipment, a tender, and water toys.
#4 MALTESE FALCON
Another noteworthy vessel built by Perini Navi shipyards in 2006 with a refit earlier this year, MALTESE FALCON is a 288.9ft (88m) luxury sailing yacht available for charter. She comes with a crew of 18 to look after her 12 guests with the utmost care.
#5 VERTIGO
VERTIGO is a 2011 Alloy Yachts built 220.6ft (67.2m) sailing yacht available for charter in Croatia. With sleek designs, she has space for 12 guests in five luxurious cabins and a crew of 11.
#6 TWIZZLE
Completed by Royal Huisman in 2010 with a refit earlier this year, TWIZZLE measures 188.8ft (57.5m) with space for nine guests in four staterooms and a crew of 11.
#7 SALVAJE
Another Alloy Yachts built sailing yacht, 2014 SALVAJE features a length of 185.1ft (56.4m) with space for up to 11 guests in five cabins.
#8 ROSEHEARTY
The Perini Navi built ROSEHEARTY, was completed in 2006 with a refit in 2020. In her 183.9ft (56m), she features six spacious cabins for 12 guests and a total of 11 crew members.
#9 ASAHI
The 183.9ft (56m) ASAHI was built by Perini Navi in 2009 with a recent refit in 2022. She features accommodations for 12 guests in six staterooms and an attentive crew of 10.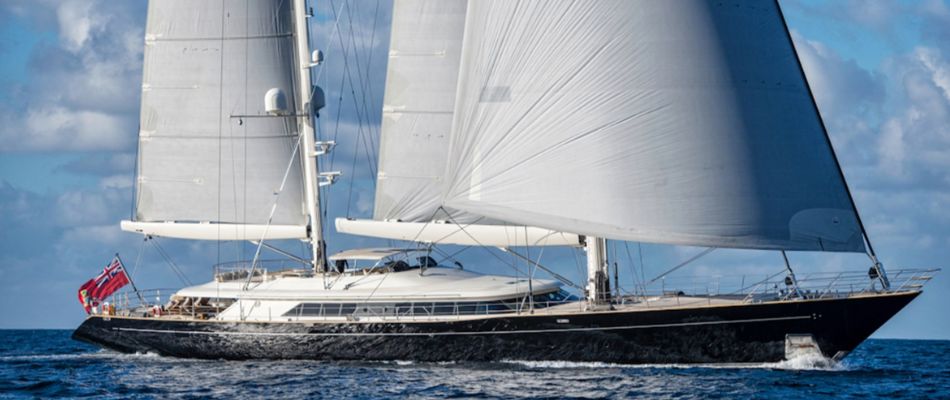 #10 ZENJI
ZENJI is a 183.5ft (55.9m) sailing yacht built by Perini Navi in 2005 with a refit last year. She is available to charter for up to 12 guests with 10 crew members onboard.
Charter Guides
How to Charter a Yacht in 2023 Guide
Before booking your luxury sailing yacht charter in Croatia, it's a good idea to learn more about the charter process. YATCO released a guide on "How to Charter a Yacht in 2023" here to help learn more about your first yacht charter.
Yacht Charter Cost Guide
Navigating the yacht charter costs and prices you might see online can take some getting used to. Refer to YATCO's guide on yacht charter costs here to help break things down for you before you book your first yacht charter.
Charter Yacht Provisioning Guide
In this article we've spoken a bit about the costs of a luxury sailing yacht charter in Croatia and the provisioning allowance. This is the cost of the food and drinks your yacht crew will provision and procure ahead of your arrival. Read all about charter yacht provisioning guidelines here.
Yacht Charter Management Guide
Whether you are looking to rent out your own yacht for charters or want to learn a bit more about the yacht charter management companies you might come into contact with, refer to YATCO's yacht charter management guide now.
Private Yacht Charter Guide
It's a great idea to learn about all of the ins and outs of what to expect during your sailing yacht charter in Croatia before you sign the contract. You can start by reading up on our private yacht charter guide.
Yacht Rental Guide
Yacht rentals and yacht charters all refer to the same thing – hiring out a yacht and its crew for a week or more. YATCO's yacht rental guide shares the latest tips and insights for booking your first yacht rental.
Yacht Charter Vacations Guide
From the role of your yacht crew to the best destinations and costs involved on a yacht charter, you'll want to do your research. YATCO's yacht charter vacation guide can help point you in the right direction.
Yacht Tender & Toys Guide
One of the best things you can do on a luxury sailing yacht charter in Croatia is play with the water toys! Every yacht charter will come with a wide selection of yacht toys for use by your group for the duration of the yacht rental. Read more in YATCO's tender and toys guide.
Luxury Yacht Charter Guide
With even more destinations and insights into booking your first yacht charter, YATCO's luxury yacht charter guide dives even deeper into the yacht rental process.
Booking a sailing yacht charter in Croatia will allow you to see the very best this destination has to offer – numerous islands all to yourself, sandy beaches, historically rich ports, and gourmet dining options at every turn (not to mention by your private chef!). Start your search for more luxury yachts available to charter in Croatia with YATCO.
As the eastern Mediterranean continues to attract more charter guests, you may also want to peruse nearby destinations in Montenegro for yacht charters and the Adriatic Sea.
Subscribe to YATCO's newsletter to stay up to date on the latest charter destinations and insights.