Every yacht lover wants to own the most beautiful, luxurious, and extraordinary yacht. That's the reason, our YATCO team went ahead and put together the five most outstanding and extravagant yachts in the world. Enjoy!
Five Most Gorgeous Yachts in the World Every Yacht Lover Wants to Own
#1 2020 Benetti Yacht LUMINOSITY
For sale by Stuart Larsen of Fraser Yachts, the 353ft Benetti Yacht LUMINOSITY is on our list of the most extravagant yachts for sale listed here on YATCO.com. Built by Benetti and designed by Zaniz Jakubowski /Reymond Langton Design/Giorgio M. Cassetta, she features a most stunning interior by Zaniz Jakubowski Design. She's extravagant because of all her stunning detail, including a custom-built owner's elevator that is installed in the main glass staircase that travels from the lower deck up to the sun deck.
She features unique amenities such as a Hammam, a counter-flow swimming pool and a bevy of water toys too long to list. The swimming pool features underwater speakers and has a moving platform to transform itself into a dance floor. There is also an oversized whirlpool on the sun deck for those wanting a nice, warm soak in the sun.
The bevy of water toys onboard includes a sailboat, three tenders, an inflatable anti-jellyfish pool and a slide, a jet-ski garage with 2 jet-skis, 4 kayaks, 16 mountain bikes, 2 Segways, a car, a van, 2 motor bikes and more!
#2 2014 Oceanco Yacht TRANQUILITY
For sale by Rupert Nelson and Mark Woodmansey of Burgess, the 2014 Oceanco yacht TRANQUILITY is next on YATCO's list of most extravagant yachts for sale. The 300ft Oceanco-built, ice-classed superyacht is exquisite in every way, from her Andrew Winch-designed interior to her classic exterior lines. Her interior features a blend of Eastern-inspired exotic materials that are peppered throughout the vessel, and include Wenge, gold leaf, bamboo, bleached oak and Travatino Veluto marble.
Her impressive exterior decks features an upper deck that has a 20sqm (215sqft) pool and a massive sun lounging area aft on the helipad, certified for an Airbus EC-135 or equivalent. The lower deck features a large beach club, with a bar and lounging area, a gym, sea terrace, beauty salon, sauna, hammam, plunge pool and showers.
TRANQUILITY was built to comply with the Passanger Yacht Code (PYC) and has an enormous volume of 2,998 GT. She accommodates 18-22 guests in 9-11 staterooms. Her master suite lies on the upper deck, and features a lounge and office area. A a private exterior door leads to a deck area with a private outdoor Jacuzzi. A full-beam VIP suite is located on the bridge deck, while her other guest staterooms are located on the main deck. These include two VIP suites (one of which can be converted into two double cabins) and two double staterooms, as well as two twins.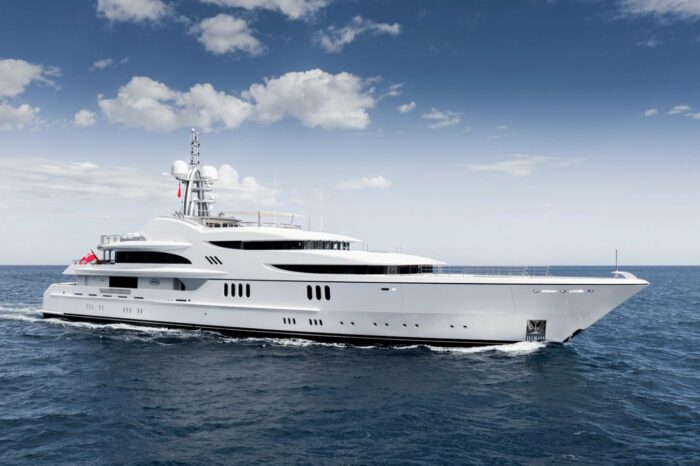 #3 2007 Feadship Yacht ANNA I
For sale by Konstantin Kolpakov of Arcon Yachts, ANNA I is on our list of most extravagant yachts for sale on the market today. This 2007, 219ft Feadship yacht features a pedigree like no other. After a full refit and repaint, the yacht is the ideal blend of classic design with state-of-the-art technology. Her sleek profile and classic interior were the work of Michael Leach Design Studio.
The rich interior features textured fabrics, lush soft furnishings, deep-colored woods throughout and an overall inviting atmosphere. The superyacht accommodates 17 guests in four double staterooms, two twins, and one single stateroom. Each stateroom has its own luxuries that include heated marble flooring in the en suites. Her master suite is double the height of the rest, and features a private observation lounge as well as access to the foredeck and sunbathing areas.
While her main salon can double as a nightclub, her skylounge can easily become a cinema room. On the main deck, the dining area features fold-down balconies, allowing the outside in. Her exterior spaces are equally impressive, as she features a dip pool, and an oversized swim platform with a bevy of water toys leading directly to the sea. Let's not forget – she also sports a helipad for fast entry and exit. It's these incredible features that make her so extravagant.
#4 2016 Amels Yacht PLVS VLTRA
For sale by Roman Kovalev of Moran Yacht & Ship, the 242'10" Amels yacht PLVS VLTRA is on YATCO.com and has made our list of one of the most extravagant vessels on the water today. The 2016 Limited Edition 242 superyacht is the first launch in the series. With a stunning exterior design by Tim Heywood, she features a highly elegant interior by the well-known Winch design team. Her name derives from the Latin PLVS VLTRA, which mean "farther beyond", which is aptly called.
The extravagant superyacht is complete with luxurious amenities that rival only the best. She boasts a large swimming pool on her aft deck as well as spa, which features a Hammam, a gym, steam room, and of course, a large beach club for easy access to the water. She also features detailing such as marble inlays in the foyer faced by a glass elevator.
She accommodates 12 guests in 6 highly appointed staterooms, as well as space for 18 crew. Her opulent master suite offers 180-degree views of the ocean from the bed through floor-to-ceiling windows – something rare. The yacht has been owned by the same owner since her delivery, and has been well-maintained throughout her ownership.
#5 2011 Lurssen Yacht VALERIE
For sale by Maria Dobroserdova of Dynamiq Sales & Charter, VALERIE is a 279′ 3″ 2011 superyacht built by Lurssen. Located in Monaco, she is on our list of most extravagant yachts for sale due to her majestic 6 decks, and impressive volume of 2,755 GT. She blends her exterior styling by the renowned Espen Øino with exquisite interior design by Reymond Langton.
VALERIE provides highly appointed accommodations for 17 guests in 9 stunningly designed staterooms with an additional nursery and staff cabin on the upper and lower decks. Top-notch service is provided by a total of 27 crew.
She features a bevy of amenities including a full spa with a Hammam, an oversized sun deck with a 6m swimming pool, as well as a heli deck. A private guest elevator reaches all levels for ease of access throughout all her six decks.
With her Lurssen pedigree, the quality of build shines through in all of her details. She has had only one owner since her launch, has never been chartered, and has been impeccably maintained with a recent refit in 2019.