YATCO interviews shipyards, designers, and naval architects around the globe to bring you their most unique projects to date. Here, we speak with the renowned shipyard Oceanco on its most unique yacht builds to date.
What is your most unique project to date, and why?
It is difficult to pick one, as every Oceanco is unique in its own way, we have trend-setting projects such as Alfa Nero, Tranquility, Kaos, AQuiJo, Black Pearl and Bravo Eugenia exemplifying Oceanco's ethos. Since our inception, we had the privilege to collaborate with nonconformist owners and were able to create next-generation superyachts. Our fleet is testament to our dare to ask new and bold questions approach,
Oceanco Alfa Nero
82m Alfa Nero has an instantly recognizable exterior design by Nuvolari Lenard and an exquisite interior by Alberto Pinto. At the time of her delivery in 2007, her aft deck swimming pool was positively revolutionary. Oceanco Alfa Nero had the first ever infinity pool which converts to a helipad and dancefloor. When the pool water is drained, the teak floor emblazoned with a large "H" raises flush to the main deck and turns into a helicopter pad. A rim seal closes off the 8,321 gallons of water. A stroke of engineering expertise, the platform moves up and down electrically on spindles instead of levers or hydraulic cylinders, preventing the platform from collapsing from the weight of a helicopter.
Oceanco Tranquility
91.5m Tranquility (ex-Equanimity) was the very first yacht designed and built to the Passenger Yacht Code. She takes up to 26 guests and has a fully certified helipad in accordance for the PYC.
PYC outlines a set of technical, safety and operational standards specific to the size and use of a private vessel. The construction process requires consideration of regulatory aspects at every stage, from operations to functionality.
Construction and finishing process materials must meet requirements to reduce the spread of fire. Veneers must be a certain thickness. Fabrics must meet stricter compliance levels. Escape routes must adhere to lower flammability characteristics, with fixed ladders instead of drop-down ladders to expedite an evacuation. Then there's construction: Heavier emphasis is placed on keeping the vessel afloat instead of having to abandon it. More watertight compartments are required: even the engine room space must be segmented.
Oceanco Kaos
110m Kaos ( ex Jubilee) with an original exterior design by Igor Lobanov and an interior by the renowned Sam Sorgiovanni, Kaos was the largest yacht built in the Netherlands at the time of her delivery. Built to the Passenger Yacht Code, she can welcome up to 30 guests.
A first for her magnitude, Kaos was delivered as a fully turn-key project, outfitted with all owner's supplies.
She has cleverly positioned 'fake decks' in her superstructure as a visual trick to mask an above-average deck height, thereby creating a better overall sense of proportion.
Oceanco Black Pearl
106.7m Black Pearl is the largest and most advanced sailing yacht in the world, she has a state-of-the-art DynaRig sailing system, a single-level engine room and a hybrid propulsion installation.
But perhaps her most interesting innovation is the ability to regenerate power by fully utilizing her 2,877sqm sail area. Black Pearl's hybrid propulsion installation has two shaft lines, each with a controllable pitch propeller. In normal sailing mode, the propellers are set to minimize drag and prevent the shafts from turning. But when we want to harvest some of that kinetic energy to be stored and used on board, the pitch of the propellers is altered to create a lifting force as the water passes over them. This rotates the shafts, which are connected to a permanent magnet electric propulsion motor (EPM), effectively converting the wind energy that is moving Black Pearl through the water into electrical energy.
With the system reaching its full potential, it is possible to achieve a fully-zero-emission transatlantic crossing where both propulsion and hotel services are powered by the wind alone. We are able to turn back the clock to a time when shipping was emission free, except now with all the comfort and luxury provided on board a modern superyacht.
Oceanco Bravo Eugenia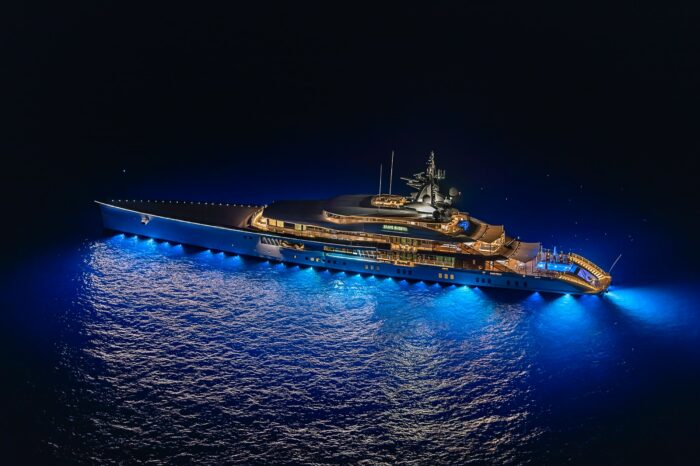 109m Bravo Eugenia a sustainability pioneer, has changed the game for eco-conscious design.
She has represented a new direction for us, being Oceanco's first LIFE Design yacht which takes its acronym from the words "Lengthened, Innovative, Fuel efficient and Eco-friendly." Bravo Eugenia has best-in-class hydrodynamic efficiency, advanced hybrid propulsion and 100sqm of extra guest space at the waterline level.
Bravo Eugenia has ground breaking sustainability attributes including a 30% increase in fuel efficiency, waste heat recovery and integrated battery systems.
As a result se received the Yacht club of Monaco's first La Belle Classe explorer award for Technology and Innovation.
What made these asks so atypical?
We prefer not to copy an icon. We prefer to create a new one. For each project mentioned above, they had things which had never been seen or done before, each project is unique, and built for its owner in exactly the way they intended it. Each of these yachts is atypical in its own way and have had the honor of winning multiple industry awards and accolades.
How did the project turn out?
All of the above projects have become icons of the seas and have contributed to the yachting industry's growth and defined the first 20 years of the 21 century.
All Yacht Builds in YATCO's The World's Most Unique Yacht Builds Series