What is the fastest yacht in the world? Since the 1980s, many yacht owners and shipyards have built record-breaking boats and yachts that can achieve heart-racing speeds.
The speed of a yacht is dependent on several variables, such as the weight, number of engines and length. Lightweight boats travel much faster, so yacht hulls made from aluminum or carbon fiber are much quicker than those made from steel or wood. Many yacht owners prefer to steadily cruise along so speed is not important to them. However, some owners want yachts that will travel vast distances in a short amount of time.
How Fast Does a Superyacht Go?
A superyacht is often defined as a vessel over 100ft (approximately 30m). The impressive length of a superyacht means that it is very difficult to achieve high speeds. However, there are several superyachts that can reach speeds of over 60 knots. M/Y FONERS is the fastest yacht in the world and she can achieve 70 knots for short periods of time. On average, the max speed of a superyacht is around 30 – 35 knots.
How Fast Can a 100 hp Boat Go?
The relationship between boat speed and boat horsepower all depends on the weight of the boat. A very lightweight, small yacht powered by 100hp will travel at much higher speeds than a heavier vessel. On an average boat, 100hp can achieve around 30-40 knots.
What are the Top 10 Fastest Superyachts in the World?
#1 M/Y FONERS
FONERS has held the title of world's fastest yacht for over two decades, with a top speed of 70 knots. Built for the Spanish royal family by Izar shipyard, she was delivered in 2000.
#2 M/Y WORLD IS NOT ENOUGH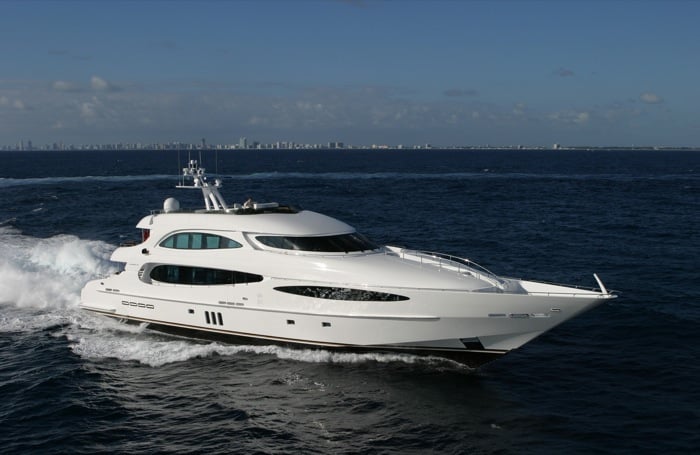 WORLD IS NOT ENOUGH comes close second with 68 knots. This high-performance motor yacht was delivered in 2004 by Millennium Super Yachts and designed by Frank Mulder. Image source: Millennium Super Yachts
#3 M/Y ALAMSHAR
This luxury motor yacht can reach between 65 and 70 knots. Built by British shipyard Davenport, ALAMSHAR is powered by six gas turbines.
#4 M/Y DESTRIERO
Winner of the prestigious Columbus Atlantic Trophy for the fastest trans-Atlantic round-trip, M/Y DESTRIERO can achieve a top speed of 66 knots.
#5 GALEOCERDO
A Wally Power 118 model, GALEOCERDO can travel up to 65 knots when at full speed. This vessel is the fifth fastest yacht in the world.
#6 GENTRY EAGLE
This boat was originally built for racing but converted into a private yacht four years after her delivery. GENTRY EAGLE can achieve a top speed of 63 knots.
#7 KEREON
One of the newest yachts on the list, KEREON was delivered in 2005 and can achieve 62 knots. She was built by Italian shipyard AB Yachts.
#8 OCI CIORNIE
A high-speed aluminum motor yacht that was delivered in 1999, OCI CIORNIE was built by Palmer Johnson in the United Kingdom.
#9 BRAVE CHALLENGER
A historic yacht built by the British Navy; BRAVE CHALLENGER was delivered in 1960. Similar to OCI CIORNIE, her top speed is 60 knots.
#10 JET RUBAN BLEU
Powered by just a single MTU engine with 3,500hp, JET RUBAN BLEU can also achieve a top speed of 60 knots. She was delivered in 1990 by Multiplast.
M/Y OCTOPUSSY, the First Fastest Yacht in the World
Motor yacht OCTOPUSSY is one of the most famous vessels in the world. She is often heralded as the first yacht that could travel over 50 knots. Built by Dutch shipyard Heesen for owner John Staluppi, she was delivered in 1988 and could achieve a speed of 52 knots – the first luxury yacht to do so.
OCTOPUSSY, The Yacht That Couldn't Be Built …
What is The Fastest Sailing Yacht in the World?
Sailing yachts cannot travel as fast as motor yachts as these types of vessels are reliant on wind power. However, a very famous yacht with sails in S/Y MALTESE FALCON, built by Perini Navi and delivered in 2006. This sailing yacht can reach a top speed of 18 knots and benefits from an array of technical features that make her one of the most advanced vessels ever built.