The South Pacific has long evoked visions of deserted white sand beaches, crystal clear sapphire waters and a callback to days gone by. Life moves a little slower here, each island a veritable melting pot of cultures and warmth from the locals. If you truly want to cast off the bow lines and discover some unchartered waters on your next charter, sailing across the South Pacific might just be for you.
Sailing the South Pacific FAQ
What Islands are in the South Pacific?
The South Pacific is the largest and deepest ocean on Earth, spanning from the Arctic Ocean, all the way down to Antarctica, bordering Asia, Australia, New Zealand, the Americas and the South Pacific islands.
While a number of islands call this region home, perhaps the most famously known for their exceptional yacht charters are:
French Polynesia (including Bora Bora and Tahiti)
Fiji
New Caledonia
Samoa
The Cook Islands
Tonga
Vanuatu
Among many others! This region is best known for islands soaked in rich culture and traditions, seemingly undisturbed by the mass tourism of other popular yacht charter destinations.
How Much Does it Cost to Charter a Sailing Yacht in the South Pacific?
Chartering a sailing yacht in the South Pacific will cost similar to other charter hotspots; with the added caveat that for most, this may be a longer destination to get to. Flying in and out of some of the smaller island chains may take you longer to get to, but it will be more than worth it once you arrive.
Chartering a sailing yacht in the South Pacific could start as low as $10,000, to upwards of hundreds of thousands of dollars. Before deciding on the right sailing yacht for your group, you'll want to consider:
Number of guests in your group – if you are a larger group, you'll have to start your search at the higher end.
How much space you'd like – you may have only six people but prefer a larger yacht, so you all have space to spread out.
Where you'd like to go – depending on the island you wish to start from, costs can rise here based on whether the yacht needs to get to you. This is called a "repositioning fee" and can add anywhere from $5,000 – $10,000 to your trip if the yacht needs to get to your destination and return at the end of your charter. Depending on location, you may also have a smaller selection of yachts to choose from.
How long and how far you'd like to go – most yacht charter companies will quote you a base price per week, plus extras. These extras include your Advanced Provisioning Allowance (APA), fuel, taxes, tip, etc. If you want to go for longer than a week, your weekly rate will obviously increase. If you'd also like to do a lot of cruising (versus spending your time closer to your departure point), your fuel costs will go up.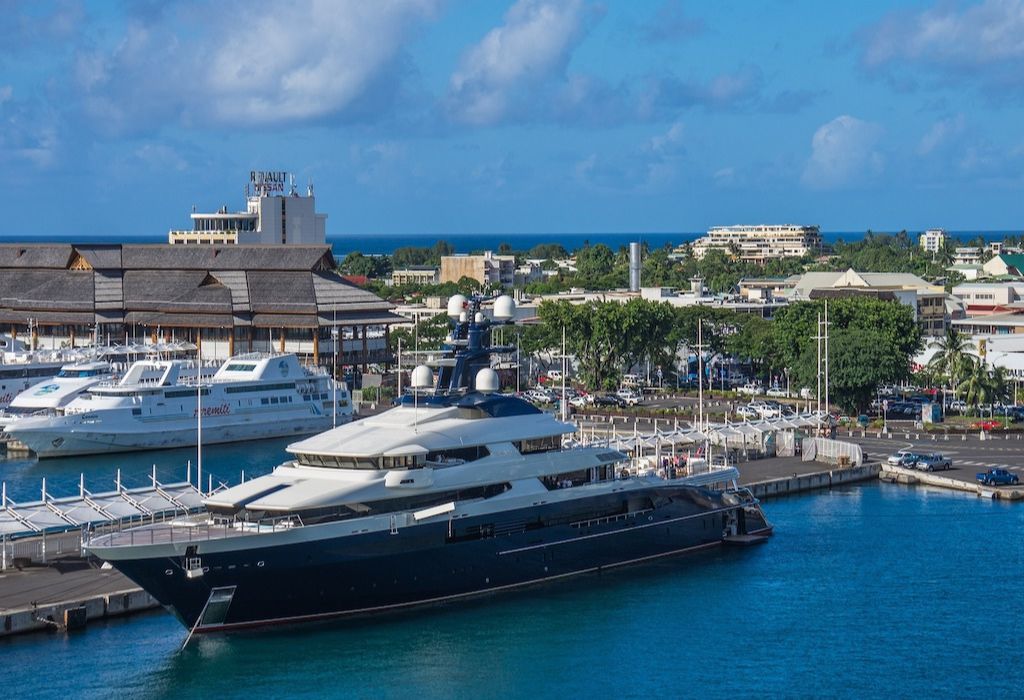 Is a Sailing Yacht Cheaper to Charter than a Motor Yacht in the South Pacific?
While it used to be the case that sailing yachts were cheaper to charter than a motor yacht, that isn't necessarily the case today. As sailing yachts have grown bigger, they are able to handle a larger amount of yacht crew, cover greater distances and offer the same luxurious amenities you'd expect from a motor yacht. However, there are many different types of sailing yachts – bare boat charter (without a captain, so you do your own navigation), catamarans, and smaller sailing yachts. So, in some cases, you may be able to find a cheaper rate for a sailing yacht than a motor yacht charter in the South Pacific. It's always a good idea to work with a reputable broker who can guide you to make the best decision for you and your group.
Can you Sail across the South Pacific?
Yes, you can sail across the South Pacific. Depending on where you are departing from and returning to, the journey will vary greatly in distance and time. As with any ocean crossing, it's usually recommended to use a yacht that is at least 35 feet, can withstand rough seas, and has enough storage onboard for extra fuel and provisions for your journey. If you plan on sailing around some of the earlier mentioned islands, you will be following in the footsteps of some of the world's best-known explorers and discovering some of the same unspoiled islands they once did.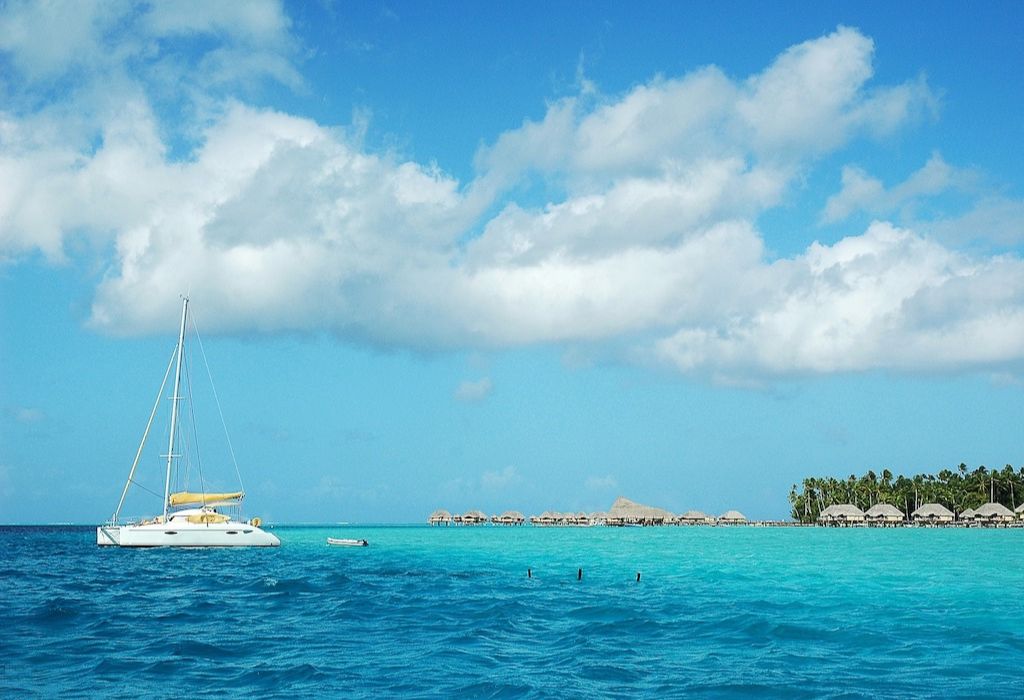 How Long Does it Take to Sail Across the Pacific?
While there may be a number of starting destinations, let's use the longest possible distance between the points of Panama to Australia. This is a journey of 8,000 nautical miles, which if done on a sailing yacht, could take anywhere from three to ten weeks. Depending on the speed at which you wish to accomplish this, many will spread this adventure out over a few months, making stops along the "Coconut Milk Run" which includes various islands, countries, and atolls along the way.
What Size Yacht is Best for Cruising the South Pacific?
Deciding on the best size yacht for cruising will not look the same for everyone. At a minimum, experts recommend a yacht that is at least 40 feet, in order to be comfortable enough for everyone onboard, with added storage space for all of your supplies. However, if you are chartering a yacht with family or friends, you will want something likely two to three times the size of that.
You'll need space for crew quarters, your guests, and room to spread out on the exterior decks and inside. In addition, you'll want to consider what yacht is best for cruising in the region you want to go. If you want to head into a lot of shallow bays or get up close to islands not easily accessible by larger yachts, you may be looking at a mini or small yacht instead of a larger mega yacht, or even a large sailing yacht with a long keel.
However, if you want to cover large distances, or have even more space spread out over three decks, with an abundance of water toys, you'll definitely be more comfortable cruising on a larger motor yacht over 100 feet.
Why are Yachts Limited to 12 guests?
Yachts are limited to 12 guests due to regulations set out by the SOLAS Convention (Safety of Life at Sea) set out by the International Maritime Organization (IMO). Once a yacht is carrying over 12 passengers, they are now deemed to be a passenger ship and have to comply with more stringent regulations (and higher fees). As most of the charter requests on the market involve fewer than 12 guests, most yachts don't feel the need for the added fees or legal requirements required in order to be able to carry 13 guests and over. This number does not include your crew, so, if you are a party of 12 looking to charter a yacht, you can take the full booking, with the crew numbers counted separately from this.
However, there are a number of charter yachts that are SOLAS compliant that you can charter if you so wish. It's always a good idea to reach out to your preferred broker to start the conversation if you're looking for numbers above this threshold.
Sailing the South Pacific is a bucket list item for many. Crossing deep blue seas without any land for miles, following in the footsteps of some truly great explorers, only to approach a stunning, seemingly untouched island is something not many people will have the opportunity to do.
Click here if you'd like to start your search for the perfect yacht charter in the South Pacific, or for more information on charter destinations around the world.