What are the most expensive sailboats in the world? There is a huge amount of luxury sailboats (up to 78ft) floating on the oceans in today's world. This article will share with you some of the most expensive sailboat brands, what influences the price of a sailboat and a selection of sailboats currently for sale on YATCO.
What Is a Sailboat?
A sailboat or sailing boat is defined as 'a boat propelled partly or entirely by sails and is smaller than a sailing yacht under 79ft (24m)'.
Top 6 Most Expensive Sailboats Up to 78ft on YATCO.com
#1 S/Y CALLISTA
Built by Harman Yachts in 2011, 59ft 5in (18.11m) CALLISTA is a Pilothouse Cutter style yacht designed by Dykstra Naval Architects. In great condition following a major refit in 2020, she is listed for sale for 9,950,000 EUR and is the most expensive sailboat currently for sale on YATCO. 
#2 GIJA
At 5,400,000 EUR, Sunreef 80 Catamaran GIJA is the second most expensive sailboat currently for sale on YATCO. She offers generous living space, an impressive owner's cabin and several al fresco areas to enjoy. GIJA has benefited from several important upgrades from the standard Sunroof 80 model and is listed for sale complete with a 300hp Williams Jet 520 tender. 
#3 MCCONAGHY Catamaran
Brand new luxury MCCONAGHY 68ft (20.7m) Catamaran is listed for sale for 4,452,441 USD, which makes her the third most expensive sailboat currently for sale on YATCO. With a carbon fiber hull, sleek contemporary interior and array of entertaining spaces, this sailboat promises a five-star on board experience. 
#4 YAPLUNKA Catamaran
A 73ft 3in (22.3m) YAPLUKA Catamaran is the fourth most expensive sailboat on YATCO, on the market for 4,380,000 EUR. A luxury cruising catamaran, this vessel was built in 2008 and is in excellent condition. She has four cabins and can accommodate eight overnight guests. 
#5 BLUBAY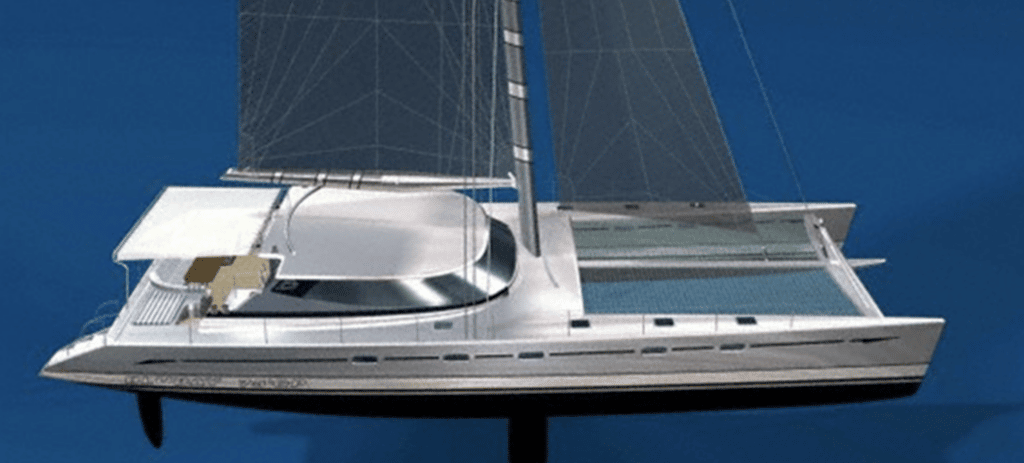 Built in 2007, this 72ft (22m) BLUBAY 72 GP Cruiser Catamaran is the fifth most expensive sailboat for sale on YATCO at 4,200,000 EUR. Lying in Caen, France, she has a cruising speed of 10 knots and four spacious cabins for her eight overnight guests. 
#6 CNB 76
The sixth most expensive sailboat currently for sale on YATCO is a 76ft (23m) sailboat from CNB, listed for sale for 3,990,000 EUR. This vessel is hull number 30 of CNB's popular sloop 76 design. She has three cabins and a cruising speed of nine knots.
Luxury Sailboat FAQ – What Every Sailboat Lover Wants to Know
What Is the Most Expensive Sailboat Brand?
There are several high-quality sailboat builders across the world that build expensive sailboats.
Beneteau
The world's largest builder of yachts and boats, Beneteau produces high-quality, innovative sailboats above 16ft. Its parent company Groupe Beneteau has 12 boating divisions and brands that offer 180 recreational boat models.
Browse new and used Benetau sailboats for sale
CNB
Construction Navale Bordeaux (CNB) is a famous sailboat and sailing yacht builder that builds popular yacht monohulls and quality catamarans. Founded by two expert sailors, CNB yachts are comfortable, safe, and fast. It also builds Lagoon cruising catamarans and EXCESS sport catamarans.
Browse new and used CNB sailboats for sale
Nautor's Swan
A Finnish brand, Nautor's Swan has built premium sail boats and sailing yachts since 1966. Its vessels are renowned to be high performing, with excellent seafaring capabilities and stylish exterior lines.
Browse new and used Nautor's Swan sailboats for sale
Yapluka Yachts
Yapluka Yachts build luxury catamarans and sailboats from 65 – 130ft. The shipyard has expertise in dual hulled, composite and aluminum yachts. Established in 1999, it is one of Europe's premiere sailboat manufactures.
Browse new and used Yapluka Yachts for sale
How Much Does a Luxury Sailboat Cost?
The price of a luxury sailboat varies on several factors: age, builder, number of cabins, on-board facilities and size.
Age
The most expensive sailboats are often the newest. New sailboats have innovative technology, the latest AV equipment, large open plan designs and brand-new features on board. As a sailboat gets older, its value decreases.
However, there are some cases where sailboats are vintage (over 20 years) but have been well looked after by the owner, which increases the value of the vessel.
Builder
A sailboat will be more expensive if it is built by a pedigree builder that is renowned for quality designs. Shipyards such as Alloy Yachts, Perini Navi and Group Beneteau are famous for the excellent sailing yachts they produce, which contributes to the cost of the sailboat.
Size
The most expensive sailboats are most often the largest ones. Not only is this because of the amount of space on board, but also because of the materials to build the yacht, the number of crew required to sail it and the amount of power/ electricity it uses.
Number of cabins
The number of cabins on board is another factor in how expensive a sailboat is. Vessels with a higher number of berths/guests are often more attractive to owners who wish to invite friends and loved ones on board.
On-board facilities
Life on board a sailboat is all about relaxation, fun and living the best of life on the water. Expensive sailboats are often packed with water toys, movie theatres, jet skis, and day tenders that make the sailing experience even more appealing.
Who Owns the Most Expensive Sailboat?
Many owners of the world's most expensive sailboats value their privacy, so it is difficult to discover who enjoys living life on board.
Yacht brokers, captains, crew and owners are very discreet and do not often reveal who owns the most expensive sailboats.
Discover Sailboats for Sale
Discover the range of sailboats for sale on YATCO and begin your boat ownership journey today.