The Mediterranean is a mecca for motor yachts – especially superyachts. Cruising Europe in the summer is one of the most popular activities among the elite, and you will see coastlines such as the French Riviera dotted with superyachts. Let's explore some of the most exclusive motor yachts for sale in the Mediterranean – see below for some select vessels on YATCO.com.
Yachting in the Mediterranean, the Mecca of Superyachts
#1 2019 354′ 4″ Benetti Superyacht IJE for Sale, located in Monaco
For sale with Peter Brown of Burgess, the 354′ 4″ superyacht IJE was built by renowned yard Benetti, and is located in Monaco for viewing.
Classic, Elegant, Timeless
The stunning superyacht has a classically elegant exterior design by the highly coveted design firm Redman Whiteley Dixon, with a splendidly modern interior by the yard itself. Constructed as the ultimate family yacht for world cruising, she was built for a highly experienced owner and was delivered in 2019. IJE is the longest yacht built by Benetti and is therefore the flagship of their prestigious custom-built fleet of superyachts. Loaded with exclusive features, she has a main salon that offers floor-to-ceiling sliding glass walls that open on three sides, and a well-equipped gym with a sea terrace. She also features foredeck storage for two 40-ft tenders. IJE accommodates up to 22 guests in 11 well-appointed staterooms, including a private owner's deck. A generously sized pool is located on the main deck aft; this area also offers al fresco dining with a lounge and bar as well. The bridge deck aft features a firepit, and the yacht also boasts a cinema, nightclub, and a private elevator. There is so much more to learn about this stately superyacht.
Contact the yacht broker for a private viewing and for further information.
#2 2009 281 ft Abeking & Rasmussen Superyacht C2, located in Imperia, Italy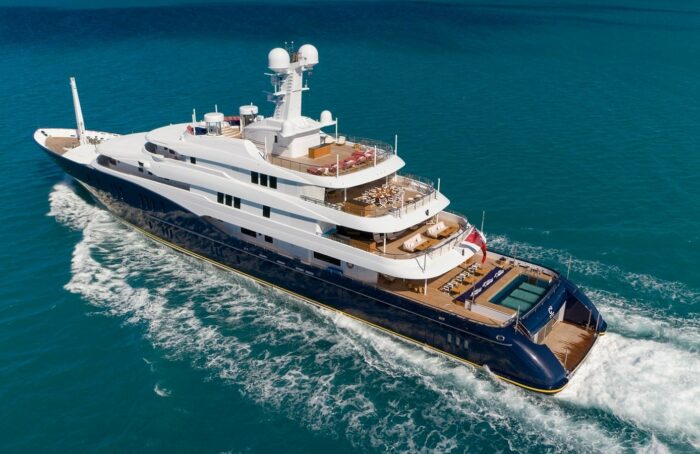 For sale with Crispin Baynes of Burgess, the 281' superyacht C2 was built by Abeking & Rasmussen and is located in Imperia, Italy for viewing.
Abundance of Light and Luxury
Built in 2009 by the highly regarded German shipyard, C2 is a majestic superyacht offering an abundance of natural light within her elegantly designed interior. Having had only one owner since her launch, the superyacht has benefitted from a robust maintenance program and recently completed an extensive refit period in 2019, adding on two new staterooms along with a large pool, beach club and tender garage, among other updates including an extension to her hull. C2 features an extraordinary amount of space for her guests, as she accommodates up to 31 in 15 luxurious staterooms. Six of the staterooms plus a VIP are located on the main deck, while on the lower deck, guests will find four additional doubles; one remaining guest stateroom is located on the upper deck along with the formal dining area and the owner's suite forward. Two additional children's cabins feature Pulman berths over single beds.
Guests are looked after by 27 crew. The stunning superyacht features a newly designed beach club that features fold-out balconies on the port and starboard sides, and ascending to the main deck aft, guests are greeted by a large swimming pool complete with a large lounge area for social gatherings and an outdoor retractable cinema screen. The yacht features many more amenities including a private elevator and a sun deck with a Jacuzzi, as well as an outdoor gym.
Please contact the broker for further information on this superyacht, and to schedule a private showing.
#3 2016 230 ft Heesen Superyacht GALACTICA SUPER NOVA, located in Barcelona, Spain
For sale with Crispin Baynes of Burgess, the 230 ft superyacht GALACTICA SUPER NOVA was built by Heesen Yachts and is located in Barcelona, Spain for viewing.
Exceptional Through and Through
Delivered in 2016, she is the largest yacht launched by the yard to date. With naval architecture by Van Oossanen, Espen Oeino International designed her yacht exterior, while Sinot Yacht Design completed her yacht interior spaces – she is exceptional through and through. The yacht has remarkable features such as a 19ft glass-bottomed pool located on the main deck aft, which is separated from lounge seating by a waterfall. Formal dining, a salon and bar areas are located on the main deck and are done in tasteful, modern décor with warm woods and cream fabrics. Up on the sun deck, guests are free to move from indoors to outdoors with a generous seating area, a bar, and al fresco dining that is only separated by a sliding glass wall. Like this area, the upper deck features an additional open-air dining option and banquette seating aft. A touch-and-go helipad is located on the bridge deck and doubles as an outdoor cinema. GALACTICA SUPER NOVA accommodates up to 12 guests in six double staterooms, including a full-beam master suite on the main deck, and a VIP. The owner's suite features a forward-facing berth, oversized his-and-hers en suites, and a large walk-in wardrobe. Guests are looked after by 16 crew. She features Heesen's Fast Displacement Hull Form and can reach 30 knots along with her Rolls Royce waterjets; she is powered by two MTU 5,766hp diesel engines and cruise for 4,000 nautical miles at 12 knots.
There is much more to learn about this superyacht; simply contact the yacht broker for further information and to schedule a private showing.
#4 2000 204′ 5″ Feadship Superyacht FLAG, located in Monaco
For sale with Merle Wood of Merle Wood & Associates, the 204′ 5″ superyacht FLAG was built by award-winning shipyard Feadship, and is located in Monaco for viewing.
Built to the Highest Standards
Built in 2000 to the highest of standards, FLAG was refitted in 2012 with a magnificent new interior designed by Chahan Minassian, and she later won Best Refitted Yacht from the Word Superyacht Awards in 2013. Immaculately maintained since, her superior craftsmanship can be seen throughout her elegant interior that offers well-appointed accommodations for up to 18 guests in 7 staterooms. Amenities include a private elevator which ushers guests across all decks, including the sun deck. She also offers various options for lounge areas and social gatherings both inside and out.
Vast deck areas provide multiple options for open-air dining across all three of her decks.
Her oversized sun deck features three sections with sunpads and a large pool on the forward outside portion; a middle section features an air-conditioned lobby with a powder room, as well as the guest elevator, and finally, the aft outdoor section which has a sit-down bar, a dining table, additional sunpads and plush chairs.
Please contact the yacht broker for even more information on this stunning, pedigreed yacht, and to schedule a private viewing.
#5 2005 204′ 5″ Oceanco Superyacht SEA WALK, located in Cap d'Ail, France
For sale with Dominic Millman and Vilena Pavlova of Burgess, the 204′ 5″ superyacht SEA WALK was built by Oceanco Yachts, and is located in Cap d'Ail, France for viewing.
Finalist in the International Superyacht Society Awards for Best Refit
Launched and delivered in 2005 by the renowned shipyard, SEA WALK has only been in private use since by her two owners. She offers vast deck spaces and accommodations for up to 12 guests in 6 exclusive staterooms. SEA WALK features an elegant, art deco interior design by Francois Zuretti and she has benefitted from an extensive refit in 2014; she became a finalist for the International Superyacht Society Awards for Best Refit that same year. Completed by Azure Yacht Design and H2, the refit project involved extending the main deck aft to feature a large Jacuzzi and new sliding doors between the swim platform and beach club. Now, guests have direct access from the guest lobby on the lower deck to the tender garage and beach club. Built to Lloyd's Register and MCA, she is currently completing her 15-year survey.
There is much more to know about SEA WALK; simply contact her yacht brokers for further information.