Fort Lauderdale, Florida, February 15, 2022 — YATCO, the Official MLS and Ultimate SaaS Platform of YachtingTM has released the YATCO SHOWBOOK for this year's Miami International Boat Show. The 2022 edition of the YATCO SHOWBOOK includes 84 yachts for sale, totaling $229,782,323 million USD worth of available inventory at the show.
Trusted Data Source and Platform For Miami's Yacht and Boat Buyers
Steven Myers, CEO and Founder of YATCO says, "The YATCO SHOWBOOKS represent the industry's top yachting professionals and list the world's finest yachts available at this year's Miami International Boat Show. We are proud to be a trusted data source and platform for the last 20 years and look forward to continuing our strong relationships with the industry's leading professionals."
All yachts listed in the SHOWBOOK are active central listings represented by YATCO professional members and currently on display at the show. Visitors can also search the company's online marketplace anytime at www.YATCO.com for real-time updates, complete specifications, contact details, and much more.
The YATCO SHOWBOOKS are accurate and comprehensive show guides displaying the pricing, location, and specifications of all yacht for sale listings powered by YATCO. Digital editions are distributed to thousands of yachting professionals and consumers worldwide.
The 2022 Miami International Boat Show Edition of the YATCO SHOWBOOK presents:
84 Yachts
33ft to 164ft (Feet in Length)
$439,000 to $17,900,000 (Price range in USD)
Click to view the YATCO SHOWBOOK: https://issuu.com/yatcollc/docs/yatco_showbook_miami_international_boat_show_202?fr=sNjUzOTMxNzY2Mg
2022 Miami Yacht Show Details:
SHOW SCHEDULE
General Admission
February 16: 10:00 am – 6:00 pm (Prime Time Preview)
February 17: 10:00 am – 6:00 pm
February 18: 10:00 am – 7:00 pm
February 19: 10:00 am – 7:00 pm
February 20: 10:00 am – 5:00 pm
Admission
General Admission (one-day pass): $40 per adult + tax
Superyacht Miami (one-day pass): $125 per adult + tax
Windward VIP Experience (one-day pass): $375 per adult + tax
SHOW LOCATIONS
Yacht Haven Grande Miami (Superyacht Miami): Features the largest and most luxurious superyachts at the show.
One Herald Plaza: Has a showcase of powerboats, motor yachts 30′ to 125′, yacht tenders, engines, marine accessories, and retail pavilions.
Sea Isle Marina: Includes 150 sea trial vessels, additional new and brokerage boats, and engine manufacturers.
Miami Beach Convention Center: Features boats up to 49 feet, engine manufacturers, marine accessories, electronics, and retail pavilions.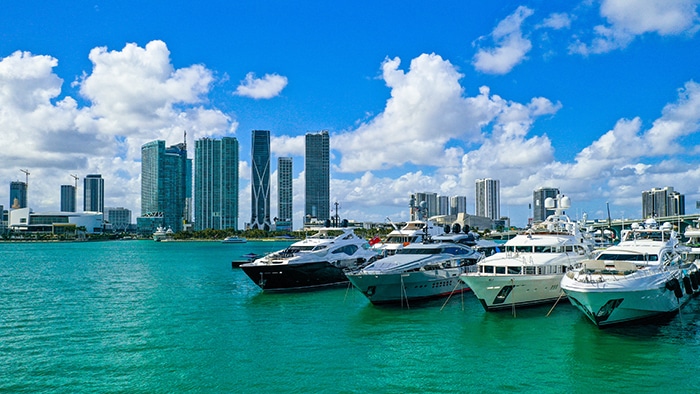 About YATCO
YATCO, The Official MLS and Ultimate Software-as-a-Service platform of YachtingTM, is the sole online service dedicated exclusively to central listings by qualified professionals only with over 20 years in the yachts for sale marketplace. With over $30 billion in yachts for sale, the company supports more than 2,000 professional yacht brokers and facilitates over $5 billion a year in sold vessel transactions through its proprietary BOSS (Back Office Software Solution). Committed to 100% pure data, YATCO serves the professional yachting community with accuracy, integrity, and cutting-edge technology.
Media Contact
Lisbet Castillo | [email protected] | +1(786) 316-5698