Presented at a sales event at Lauderdale Marina Yacht Club in Fort Lauderdale on April 19, the Baglietto team released details of their new DOM 115 model, building on the success of the DOM series.
New Entry-Level Option
Following the success of their DOM 133 series, which has sold eight units since its launch two years ago, the new 35m (115ft) DOM model is an excellent entry-level option. "We embarked upon this project to meet many requests from clients who had appreciated the core strengths of the DOM 133, but were looking for a smaller yacht," commented Baglietto's CCO Fabio Ermetto. "This new model perfectly meets current market needs and allows us to offer a steel and aluminum model boasting truly unique features in the superyacht segment, too."
Boasting similar stylistic features of her successful larger sister, the DOM 115 retains a modern yet timeless feel with the same captivating lines of the DOM 133 model. Combining a large volume for a yacht of her size, with panoramic views helps to magnify the spacious and airy feel of the interior.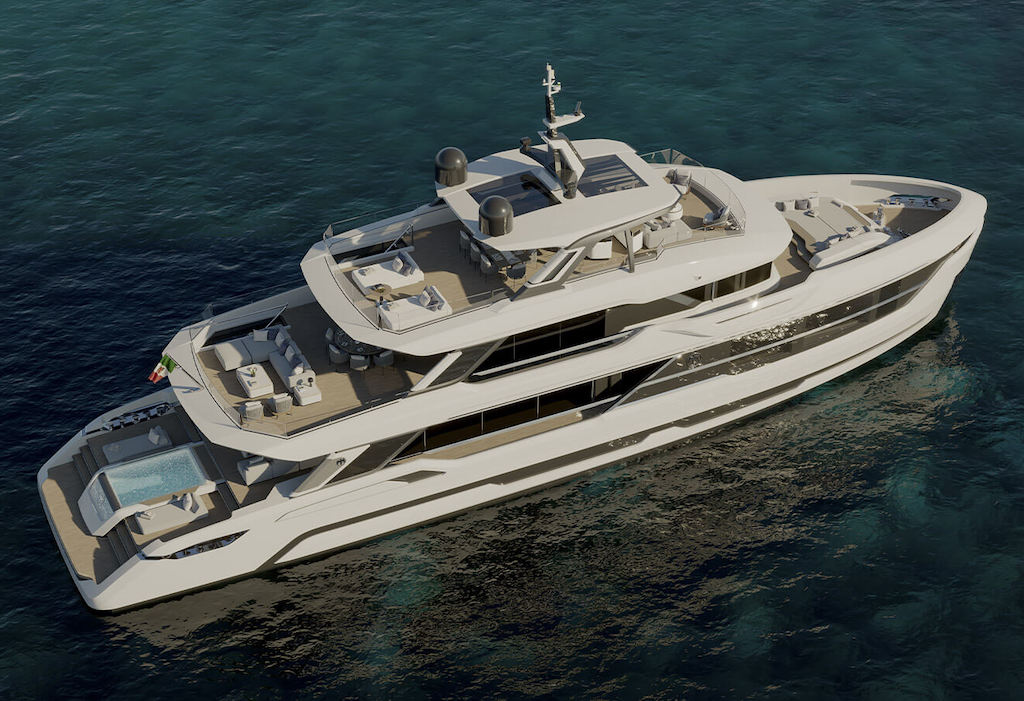 Intentional Details
Creating a harmonious open space was key to the design – the doors of the main deck saloon can be opened completely and concealed to seamlessly connect the interiors and exteriors while the large floor-to ceiling windows, offer a breathtaking 270-degree view. The upper deck is fully glazed with the option to open on three sides. These features push beyond the feel of a 115-foot yacht and give the illusion of a much larger yacht, while remaining in constant contact with the water.
The aft is spread over three decks, slowly descending toward a stunning pool overlooking the sea behind. Tender storage is located on the side garage, freeing up precious deck space for your personal use. Steel and aluminum hull design allows for greater flexibility in layout solutions, while twin MAN propulsion systems will allow the yacht to reach a top speed of 15 knots, with a hybrid version available as well.
Ermetto shared with the audience that the decision to launch this new model in the US is due to the country representing 40 per cent of Baglietto's order book. "It's a very important model for us and we wanted to introduce it in the US because, not only do we believe it is a great vessel for the American market, but one of the targets we had in the last two years was to increase presence in the US segment."
The first DOM 115 is currently for sale, with an expected delivery date of May 2025.