Hot Lab, the designers behind Turkish yard, Bilgin Yachts' 163 model, ETERNAL SPARK, have shared new renderings of the yacht interior ahead of her debut at the Monaco Yacht Show in September. The 163ft (50m) yacht features a yacht exterior by Unique Yacht Design with Hot Lab completing her interiors following the start of the build process in late 2019. 
With an end goal to charter, every aspect of ETERNAL SPARK has been catered to comfort and style for guests on board. Part of the Viken Group, Hot Lab offered a plethora of new interior designs to shed light on her modern styling.
Unique Yacht Design Details Onboard 
ETERNAL SPARK is comprised of four decks, making use of natural light throughout, while the design team has utilized innovative ways to manipulate and spread that light around. One of the most striking examples of this is a show stopping central staircase that allows light from the glass bottomed sundeck pool to bathe the below in natural light from the skylight with mirrored strips all the way down to continue bouncing this light off each surface.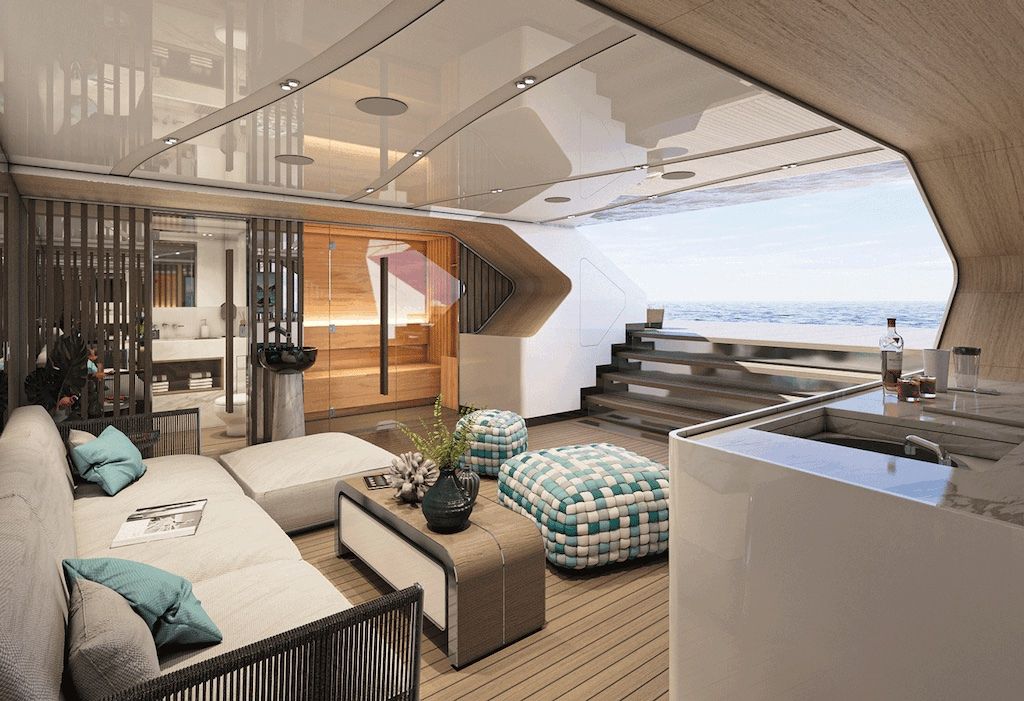 Enrico Lumini, Partner and Head of Design at Hot Lab shared, "Eternal Spark offered us the chance to emphasize all of the beautiful reflections of light that were coming up through the sundeck pool by incorporating a skylight here. We also added an innovative floating staircase and covered its curved surface with very thin mirrors only a few centimeters wide in order to create a perfectly curved mirror effect that multiplies the reflections of water a thousandfold."
The team used an impressive 60 natural finishes and 14 different types of marble throughout. A total of 12 guests can be accommodated overnight in six tastefully designed staterooms, with more than 100 people able to be entertained while in port with seven socializing areas, five bars and one of the largest exterior spaces found on a 163ft yacht. 
ETERNAL SPARK was designed to go far with a range of 5,000 nautical miles. The yacht will make her world debut at the Monaco Yacht Show, September 27 – 30, 2023.