Beautifully appointed and completed in 2020, Benetti's 353ft (107.6m) superyacht, LUMINOSITY, offers impressive accommodations for up to 27 guests and 37 crew members thanks to being Passenger Yacht Code (PYC) approved. Enjoy this walkthrough and video by Justin Ratcliffe on behalf of Benetti.
Featured Image Credit: Benetti
LUMINOSITY is a yacht that breaks the mold by following new pathways. At 107 meters in length and rated at almost 6,000 gross tons, LUMINOSITY is the largest hybrid diesel electric yacht afloat. PYC, or Passenger Yacht Code approved, she can accommodate in individually appointed suites up to 27 guests who are pampered by a yacht crew of 37, able to take care of their every whim.
Watch the Benetti FB272 M/Y LUMINOSITY walkthrough video – 107.6m – The Superyacht of the 21st century video on YouTube.
Video Transcription
Yacht Layout
The yacht layout is distributed over six deck levels connected by a magnificent aerial staircase. Alternatively, guests can be whisked at one meter per second by the all-glass elevator from the lower deck to the sun deck salon. Here in the main salon with its three-meter-high ceilings and huge panoramic windows, is the best place to appreciate the interior volumes of LUMINOSITY. The space itself is flexible and multi-functional with various intimate lounging areas, both for small family groups and larger social gatherings.
Beach Club
One of LUMINOSITY's highlights is definitely her beach club. The area offers a fitness spa overlooking the sea, a 30 square meter pool with counter current for swimming and all manner of water toys.
She also has a spa with Turkish bath and a refreshing plunge pool.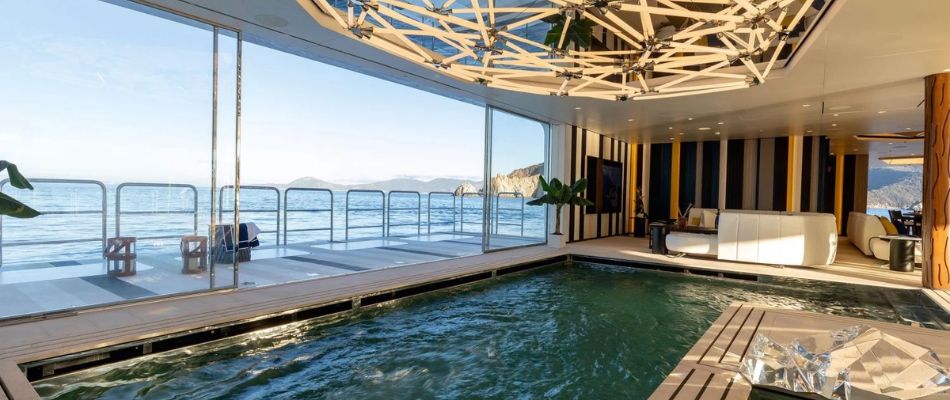 Tenders
Large and comfortable tenders are an essential ingredient of the whole superyacht experience which is why LUMINOSITY has this enormous forward tender garage with room for three tenders of 11.5m each. Of course, guests can also arrive by helicopter and on the sundeck aft, we have a fully certified heli deck with its own dedicated refueling system.
Master Stateroom
The master stateroom is located in the aft section which is the most stable place to guarantee comfort during night crossings. The suite itself is extremely quiet with noise levels of less than 35 decibels, that's the equivalent of a hushed library, for example.
The centerpiece in the bathroom is the bathtub. A masterpiece of craftsmanship fashioned from a single block of Carrara marble, a massage room, private pantry and an outdoor terrace complete the aft part of the deck, while the owners and PA's offices are positioned forward.
Moon Lounge
On the bridge deck aft, we have what's called the moon lounge – the largest open-air area on the yacht. The covered half terrace is arranged into various intimate lounging and dining areas. From this counter height bar unit, ideal for breakfast or a buffet lunch overlooking the sea, to the formal dining table that can be extended to include a full complement of guests, but the whole area can be devoted to the use of a very special guest because it comes complete with its own VIP suite.
All the VIP suites on the main deck are distinguished by huge floor-to-ceiling windows and bespoke decorative themes.
Sundeck
Returning to the outdoor spaces, another area of note is the sundeck with its glass wall jacuzzi and breathtaking views from high above the water, and in the evening, you can enjoy a candlelit dinner alfresco under the stars.
Propulsion
But perhaps the jewel in LUMIONSITY's crown is her hybrid diesel electric propulsion system comprising two 2,200-kilowatt electric pods, six 1000-kilowatt diesel generators and a three megawatt battery bank, she has one of the most advanced propulsion systems of any other yacht afloat today. The system provides a maximum speed of 16 knots and a range that exceeds 8,000 nautical miles at 10 knots, providing zero emission cruising with a double-digit range and access to protected marine parks. All the on-board systems have been designed to extend autonomy and reduce environmental impact.