A mini yacht is a popular type of vessel for boat owners across the world. If you are considering purchasing a boat, a mini yacht has all the amenities of a larger vessel but in a smaller size. Read our mini yacht FAQs and browse new and used boats for sale on YATCO.
Banner image source: 2023 ABSOLUTE 48′ 11″ 48 COUPE
Buy a Mini Yacht FAQ
What is a mini yacht?
A mini yacht (also known as a pocket yacht) is a motor yacht under 50 feet. Although it is smaller than many luxury yachts available, mini yachts still offer a range of exceptional features and technology for guests to enjoy. Mini yachts are popular as they do not necessarily need a captain or a crew, which means that experienced sailors can operate the yacht themself. Mini yachts are also known as dayboats or liveaboard vessels.
How much is a mini yacht?
The price range of a mini yacht varies depending on the vessel's age, builder, amenities and size. Brand new mini yachts typically start at around $500,000 while second hand mini yachts cost anywhere from $100,000.
What is the minimum size mini yacht?
A mini yacht is typically between 30 – 50 feet in size.
Do small yachts have toilets?
Yes, many mini yachts will have toilets (or 'heads') on board. Most often, mini yachts will have one bathroom on board for all guests to use.
At what point does a boat become a yacht?
There is no official guideline for when a boat becomes a yacht. However, it's a commonly held view that any boat over 30 feet is a yacht.
How far can you travel in a small yacht?
The distance you can travel on a small yacht depends on the size of the engine and the vessel's cruising capabilities. As many mini yachts are made from fiberglass and light materials (not steel or aluminum), these vessels can travel longer distances on one fuel tank. The nautical range of each vessel will vary.
What is the barefoot rule on a yacht?
The 'barefoot rule' means that guests are discouraged from wearing shoes while on board. Many yachts have expensive teak decks, which can be easily damaged by shoes – especially high-heeled shoes. As a result of this, almost all yachts will ask you to take off your shoes before you come on board.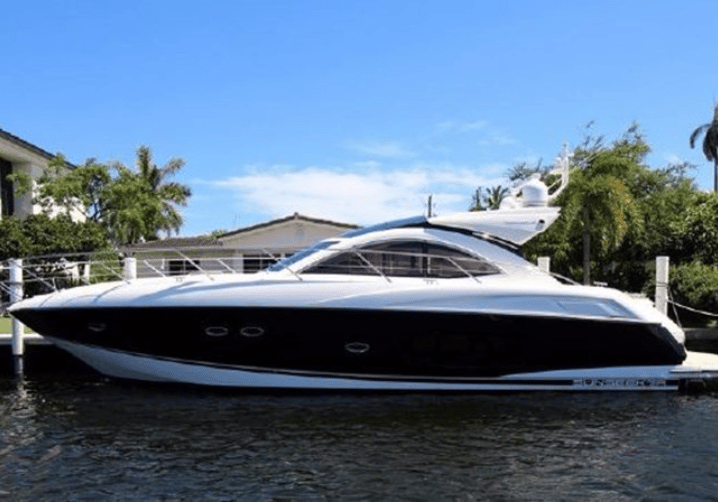 Can a small yacht cross the ocean?
Smaller yachts can cross the ocean, but it is not recommended for boats less than 30 feet attempt to do so. Crossing the Atlantic Ocean can take up to three weeks and boats will need enough supplies, water, fuel and storage to complete this journey safely.
How many guests can a small yacht carry?
Small yachts can carry several guests during the day – depending on the size and weight of the vessel. However, there are strict regulations on the number of people who can stay overnight on board. This is for safety reasons. Boat owners must adhere to the International Maritime Organization's rules on the number of guests on board.
Can you live full time on a yacht?
Yes. One of the joys of owning a yacht is the ability to stay on board for extended amounts of time. Lots of boat owners travel across the world and live for many months on their yachts.
A mini yacht is an excellent choice for individuals who wish to sail the world themselves, with all the luxuries of a much larger vessel. For more informative articles, sign up for the YATCO newsletter to receive the latest boating and yachting news and insights from our YATCO team.